FEBRUARY - FEVRIER 2023

Click on the picture to watch the video teaser. - Cliquez sur l'image pour voir la vidéo promo.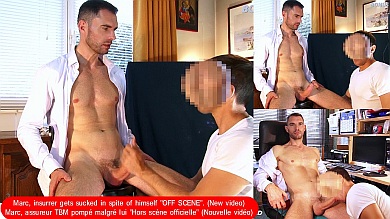 Marc, hot insurer gets sucked his huge dick by our assistants. (UNSEEN Off scene).

Here is the video that was not planned. There was not supposed to be any help from an assistant but it is even worse than he imagined.

A 2nd assistant took Marc's big dick and sucked him off in spite of himself.

We see him surprised by this moment when he thought he could finally jerk off alone but we had no intention of leaving his big cock in his hands. It was the first time that he was "abused" at this point by the assistants.

Twice, his big cock was the property of our improvised suckers. He finally let it go but as you can see on the 2nd part of his office sucking, he freezes and stares at one of the assistants.

Here is a video called "off camera" that we filmed without him saying a word because his excitement was enough to give us his agreement to be sucked in spite of him for his first time abused by all these guys.

La vidéo de Marc / Marc's video on :

---
Marc, un assureur se fait pomper son énorme queue par nos assistants. (vidéo "hors caméra" = non officielle)

Voici la vidéo qui n'était pas prévue. Il ne devait pas y avoir l'aide d'un assistant mais c'est encore pire que ce qu'il imaginait. Un 2e assistant a pris la grosse queue de Marc et l'a pompé malgré lui.

On le voit surpris par ce moment où il pensait enfin pouvoir se branler seul mais nous n'avions pas l'intention de laisser sa grosse bite entre ses mains. C'était la première fois qu'il se faisait "abuser" à ce point par les assistants.

Par 2 fois, sa grosse bite a été la propriété de nos pompeurs improvisés. Il a fini par se laisser faire mais comme on peut le voir sur la 2eme partie de son pompage au bureau, il se fige et regarde fixement un des assistants.

Voici une vidéo dite "hors caméra" que nous avons malgré tout filmé sans qu'il ne dise un mot car son excitation suffisait à nous donner son accord pour être sucé malgré lui pour sa première fois abusé par des tous ces mecs.