Click on the picture to watch the video teaser. - Cliquez sur l'image pour voir la vidéo promo.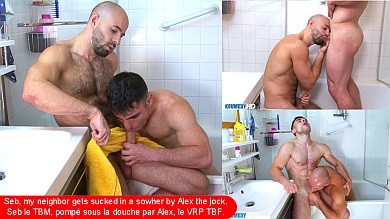 As Alex was about to shower, Seb, who had been waiting his turn, sat down on the edge of the bathtub. He was in a hurry because he had an appointment in 30 minutes.

I thought Alex was going to shower quickly, but I saw that he was looking at me to see if I was still filming and if he could touch Seb. The attitude was strange, I had the impression that these 2 guys liked each other and wanted to fuck again.

When I told Alex that the camera was still filming his shower, he continued to caress Seb and then grabbed the hairy jock's big cock and sucked it hard. I saw Seb's huge club tense up, so I resumed filming in a hurry. I understood that the camera was in the way of these two handsome males, but losing a drop of their sperm off-camera was out of the question.

After having his big cock massaged, Seb asked to suck Alex's dick and they had a lot of fun together. You can tell they had a really hard-on - they were just itching to get their big dicks in each other's mouths.

La vidéo de Seb sucé sous la douche par Alex/ Seb gets sucked by Alex in a shower:



---


Alors que Alex allait se doucher, Seb qui attendait son tour s'est assis sur le rebord de la baignoire. Il était plutôt pressé car il avait un rendez-vous dans 30 mns.

Je pensais que Alex allait vite se doucher mais j'ai vu qu'il me regardait pour savoir si je filmais encore et s'il pouvait toucher Seb. L'attitude était étrange, j'ai eu comme l'impression que ces 2 mecs se plaisaient et qu'ils voulaient baiser encore.

Quand j'ai dit à Alex que la caméra filmait encore sa douche, il a continué de caresser Seb puis il a saisit la grosse bite de ce sportif poilu et l'a sucé à fond.
J'ai vu l'énorme gourdin de Seb se tendre alors j'ai repris le tournage en urgence. J'ai compris que la caméra gênait ces deux beaux mâles mais il était hors de question de perdre une goutte de leur sperme hors caméra.

A force de se faire masser sa grosse bite, Seb a demandé à sucer Alex et ils se sont amusés ensemble. On peut remarquer qu'ils bandaient vraiment fort, ils avaient envie de bonne grosse bite à se mettre dans la bouche.