ok
MAY - MAI 2019 -

Click on the picture to watch the video teaser. - Cliquez sur l'image pour voir la vidéo promo.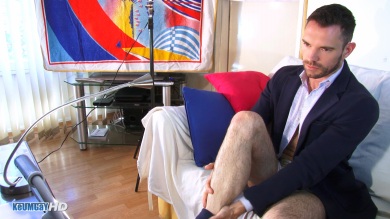 He is 31 years old. He came just at the end of a filming of a model. He is the guy who try to sell you a contract but we're not the kind of guys to sign without counterparty.

He had no choice: we have asked him to let him get massaged on video and after a long negociating, he said yes but... It wasn't easy to make him fell good. The masseur was very excited by this guy and Marc feared to be the sex toy of 2 hornys men. And he was the fact.

We've played a lot with his huge hard cock of insurrer. He couldn't resist to 4 hands massage to his big dick.

He took pleasure even if you watch him a little bit stressed.

La vidéo de Marc / Marc's video on :

---
Il est venu au moment où nous finissions un tournage.

Nous l'avons fait entrer et il a vite compris ce qui se passait. Nous lui avons parlé franchement vu le contexte et son besoin d'avoir au moins un contrat de signé pour sa journée. Nous avons profité de sa disposition pour lui proposer de poser en vidéo lors d'un massage filmé mais...

Il ne savait pas que nous allions aller aussi loin avec lui. Nous avons dû négocier un bon moment pour qu'il se décide à accepter de se laisser faire. A force de le caresser et de glisser les doigts sous son pantalon, un effet attendu s'est produit mais nous ne savions pas à quel point ce beau mâle était aussi bien gaulé.

C'est un énorme gourdin que le masseur a pu mettre en erection. Oui, Marc est TBM mais il a aussi de magnifiques grosses couilles.

Il était impossible pour nous de laisser ce mec dans un massage à 2 mains c'est donc 4 mains qui ont massé et branlé sa grosse queue de beau mec très bien monté.